Reactor
Gryphon
#

73811

Bright red with red/black co-molded strap

Case
Material: Red
Dial Color: Nitromidª polymer with Stainless Steel core
Dial Movement: Quartz with 10-year power cell
Illumination: Never Dark¨ System
Band
Black & Red co-molded rubber and nylon strap
Depth Rating
Individually depth tested to 200 M / 660 ft.
Features
Tough Nitromid polymer for lightweight & impact resistance
Crystal, crown & caseback mount into 316L stainless core
Secure screw bar case-to-band interface for superior strength
Secure screw bar case-to-band interface for superior strength
Dimensions
Case Dia: 42mm
Case Thickness: 14mm
Product Details
Details

How do you make a plastic watch tough enough to be called a Reactor? Make it out of stainless steel. Seeing how tough space-age polymers are dominating the firearms market, we decided to experiment. Step one was finding the right polymer, which we did with Nitromidª, a glass-reinforced polymer with a tensile strength higher than steel. But that was only part of the problem. All plastics have some elasticity, which improves their durability and impact resistance, but really hinders their ability to be made highly water tight. Our solution? A stainless steel core that houses all of the water-tight connections on a watch - crystal, caseback, and screw-down crown. The result is a watch over 50% lighter than an all steel model with the same water-tight integrity but improved scratch and impact resistance. We call that the best of both worlds. And of course, Gryphon features our patented Never Dark¨ illumination technology, which keeps the watch visible 24/7 regardless of light. For military, public safety, and active outdoorsmen, we don't think you can buy a better watch at any price.

Name
Gryphon
Stock Number
73811
Department
Timepieces
Type
Watch
Collection
Gryphon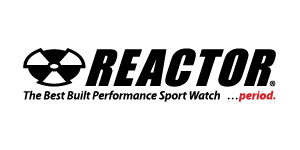 Reactor watches are designed to meet, or exceed, demanding Swiss standards. Cases are forged from solid stainless steel or titanium. Multiple o-ring seals and water-tight screw-down crowns are used throughout. To ensure that a Reactor will survive the decidedly non-sedentary lifestyle of our target customer, we developed new standards. Swiss sapphire crystals gave way to the more impact-resistant K1 hardened high-ceramic glass. The delicate precision of a Swiss movement gave way to the robust accuracy of Japanese quartz. An entirely new case-to-band fastening system was devised to keep these watches firmly in place during the worst unplanned events. Reactor truly represents the best of what the world of watches has to offer.